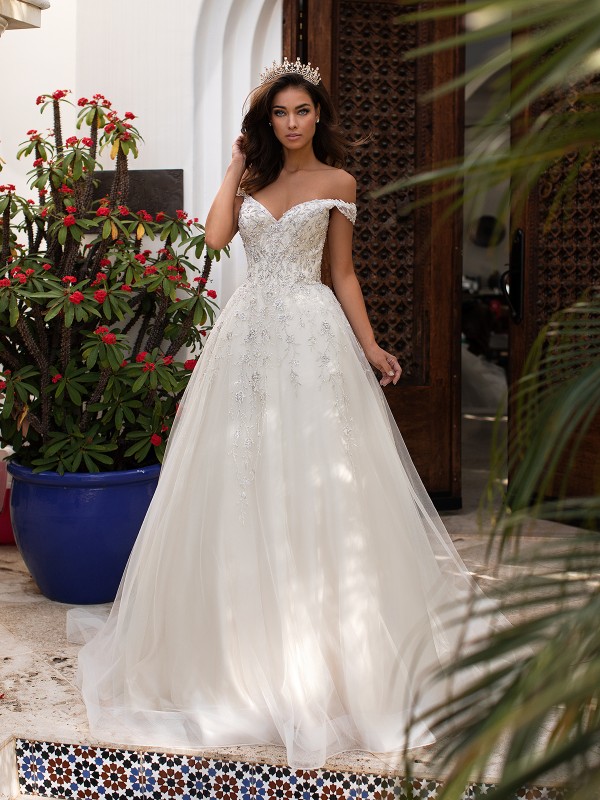 Style H1399
Beaded and Embroidered Off The Shoulder Wedding Dress
For the regal bride, or one who just wants to look the part, nothing but the best will do. That means a classic silhouette, delightful detailing, and a beautiful chapel train. This dress has all of that and more! This beaded and embroidered off-the-shoulder ball gown is the perfect look for a fairytale wedding. The bodice is simply covered with intricate silver embroidery and glistening beadwork featuring Swarovski crystals, sequins, rhinestones, pearls, and bugle and seed beads. From the back it's unlined with illusion netting and features a line of delicate buttons with loops that perfectly accent the illusion back. The lavish details continue onto the ballgown's skirt which floats down to a charming chapel train in the back.
Ivory/Gold, Ivory/Ivory, White/White
When you're ready to embark on your journey toward happily ever after, you're going to need a few things. Once you've chosen your prince, you'll want a lovely setting for your wedding. Choose a charming estate or southern plantation house for a lovely and luxurious backdrop. Or select a lush garden or arboretum with all the beauty and grandeur nature has to offer. In colder months, it might be safer to opt for an indoor venue such as the ballroom at your local country club or a luxury hotel. Next, you're going to need an entourage. Get together your besties, and maybe throw in a sister or cousin or two. Then comes the biggest decision: the dress. Not just any dress will do. You want something that will remind your future spouse why he fell in love with you in the first place. It should be over the top stunning, with head-turning details from every angle. Sounds like a tall order, impossible to find? Don't worry! This. Is. That. Dress. It's the sort of unforgettable look that every bride is searching for, with a dramatic flair and a romantic feel. Available in Ivory with Gold lining or more traditional ivory or white
Join Our Mailing List
Please enter a valid email!
Thank you for joining our Mailing List!
You'll now get news and updates in your inbox from Moonlight Bridal.