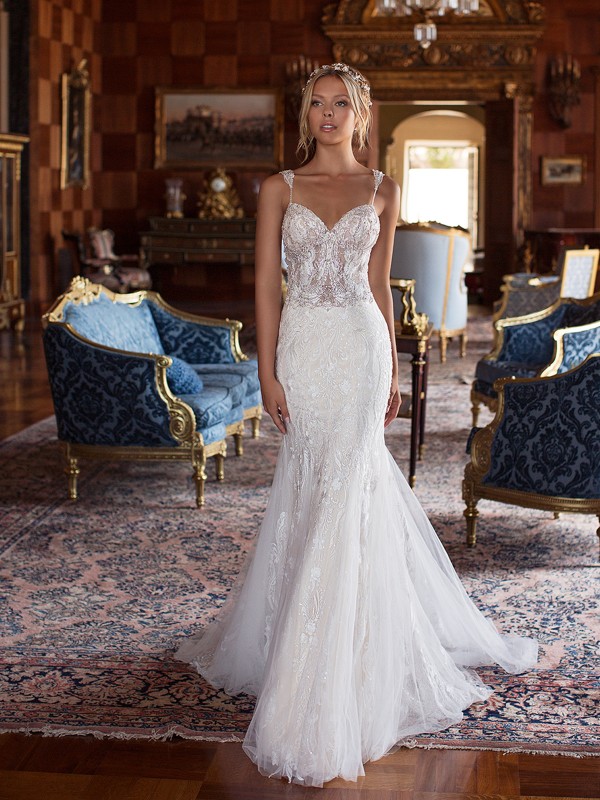 Style H1380
Wedding Dress with Unlined Bodice and Lacy Tulle Train
If you're looking to wear something a little different on your wedding day, but you don't want to stray too far from traditional bridal style, slip into this Beaded Wedding Gown from the Moonlight Couture collection. Although it is fully constructed as a single dress, its unlined, beaded bodice gives it the appearance of a two-piece ensemble.
The top of the dress is sure to draw attention right away, but the bottom of the dress will mesmerize guests as you walk down the aisle. Although the lacy applique pattern extends all the way to the hem of the long chapel train, flowing tulle unexpectedly pools on top to give the gown a feathery, frosty appearance.
Ivory/Gold, Ivory/Ivory, White/White
You're sure to turn heads on your wedding day when guests see you in this Bridal Gown with Sweetheart Neckline. Although it has plenty of traditional bridal details, a racy unlined bodice that is adorned with custom beadwork will make your sweetheart do a double take as you walk down the aisle.
No expense was spared to ensure this beautiful gown has just the right details. The sweetheart neckline is held in place with two spaghetti straps that are adorned with lace and beads. The back of the dress is open to show off your toned shoulders and dainty waist, while satin buttons give this gown a touch of classic bridal elegance.
The extended chapel train on Style H1380 is a real show-stopper because it features lace, in keeping with the overall style of the dress, but fluffy panels of tulle are added in just the right places to make you feel like you're walking on a cloud from morning 'til night.
Try on the Wedding Dress with Unlined Bodice from the Moonlight Couture collection and you'll know right away that it's the perfect dress for your big day. Schedule an appointment with your nearest Moonlight Bridal retailer to fall in love with this opulent gown in person.
Join Our Mailing List
Please enter a valid email!
Thank you for joining our Mailing List!
You'll now get news and updates in your inbox from Moonlight Bridal.