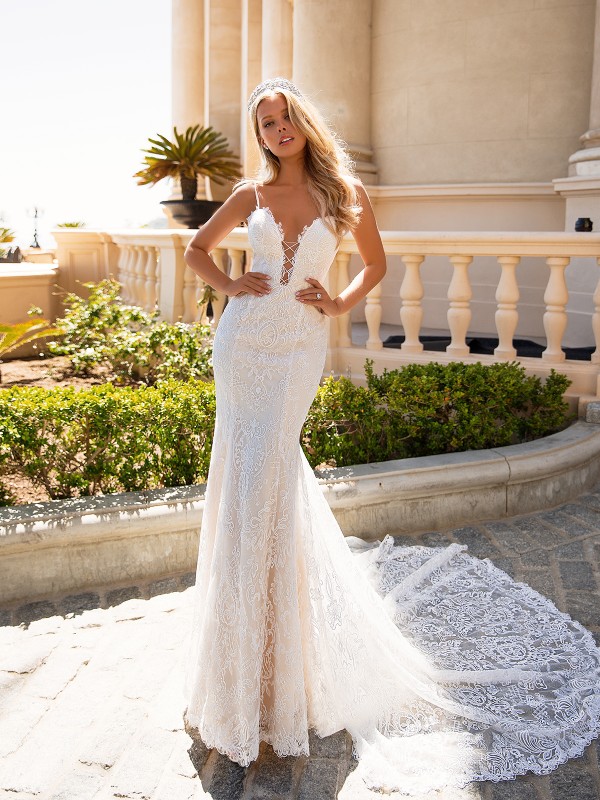 Style H1374
Allover Lace Wedding Gown with Buttons Down the Back
You will undoubtedly be a vision in lace on your wedding day when you don the Illusion V-Neck Wedding Dress from the Moonlight Couture collection. Its most striking, sexiest feature is the illusion V-neck detail that features a lace-up pattern and lace appliques that give the top of the dress a laid back, yet feminine look.
The allover lace pattern can be found on the front and the back of the dress, which includes an illusion panel that opens up the entire back of the dress. Satin buttons will make you feel like a true bride on your wedding day, as will the long chapel train that will float behind the dress as you walk down the aisle.
Re-embroidered sequin lace fabric
Ivory/Gold, Ivory/Ivory, White/White
The simplest details on this Wedding Gown with Buttons Down the Back aren't as simple as they seem because they are constructed out of the highest quality, luxury materials. The lace applique fabric gives the dress a very tactile feel, while a stretch satin lining shows off every detail of the lace pattern. The long chapel train features more than one layer of this lacy fabric with a feminine edging that enhances every seam and hem of the dress.
The front features simple spaghetti straps that plunge into a daring V-neck with an illusion panel and unexpected lace-up design. Vertical seams on the front of the dress will make you look taller and slimmer. The back of the dress is enhanced with a beautiful train, but it also features an illusion lace panel and satin buttons.
The Lace Wedding Gown with Chapel Train from the Moonlight Couture collection is the perfect combination of traditional luxury and modern details, making it perfect for no-fuss weddings where simple, high-quality details are the focus of the day.
Learn more about Style H137 by contacting your local Moonlight Bridal retailer. A professional bridal consultant can tell you more about the features of this dress. They can also schedule a fitting at your earliest convenience.
Join Our Mailing List
Please enter a valid email!
Thank you for joining our Mailing List!
You'll now get news and updates in your inbox from Moonlight Bridal.