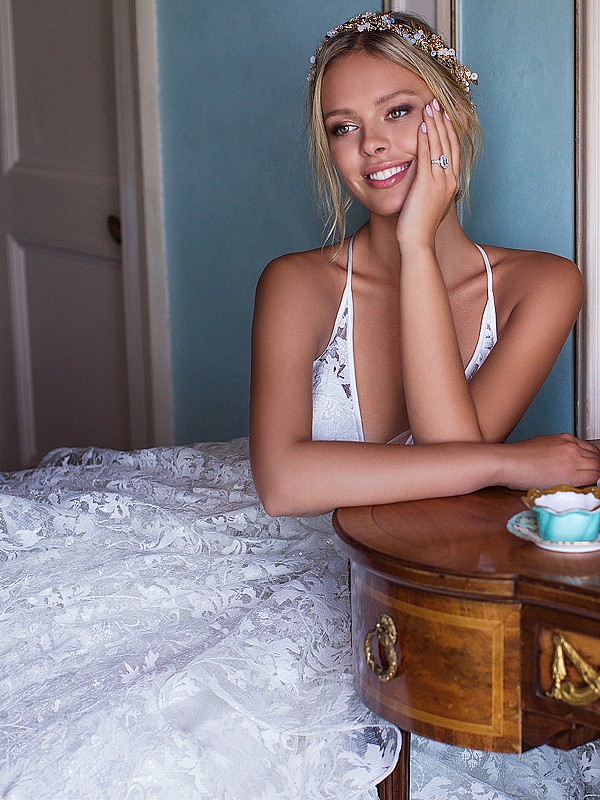 Style H1373
Deep V-Neck Wedding Gown with Lacy Illusion Back
You want to feel the romance on your wedding day, but the Illusion Back Wedding Dress from the Moonlight Couture collection also allows you to put your playful nature on display. It features yards of lacy fabric and vertical ruffles that will encourage you to sway your hips as you walk down the aisle and get out on the dance floor to show off your moves.
The playful spirit of this Lace Wedding Dress with Ruffles continues with a daring, deep V-neck with understated illusion panels that transform into simple spaghetti straps. Those straps transform into multiple straps on the back of the dress that trail down to a sexy illusion back. The playful nature of this gown makes it a great choice for a ceremony on the beach or a laid-back barn reception.
Embroidered sequin lace fabric
From eloping on the beach to a large barn reception, this Deep V-Neck Wedding Gown is the perfect dress for any playful bride who wants to have the time of her life on her big day. A deep, satin-lined V-neck daringly plunges to your waist while yards of fabric cascade vertically down the front of the dress. The sequin reembroidered lace fabric is enhanced with floral lace that is on display in the illusion panels on the front and back of the dress.
The back of the gown has sex appeal to match the front with satin straps that put your soft, smooth skin on full display. A chapel train will trail behind you as you make your way down the aisle, while an appropriately placed bustle will provide the back of the dress with ruffles that complement the style on the front of the dress when it's time to party.
Locate your local Moonlight Bridal retailer to see Style H1373 and all its lacy, ruffly details in person. By scheduling an appointment with an expert bridal consultant, you can try on this Lace Wedding Dress with Ruffles and others like it to find the perfect dress for your wedding day.
Join Our Mailing List
Please enter a valid email!
Thank you for joining our Mailing List!
You'll now get news and updates in your inbox from Moonlight Bridal.