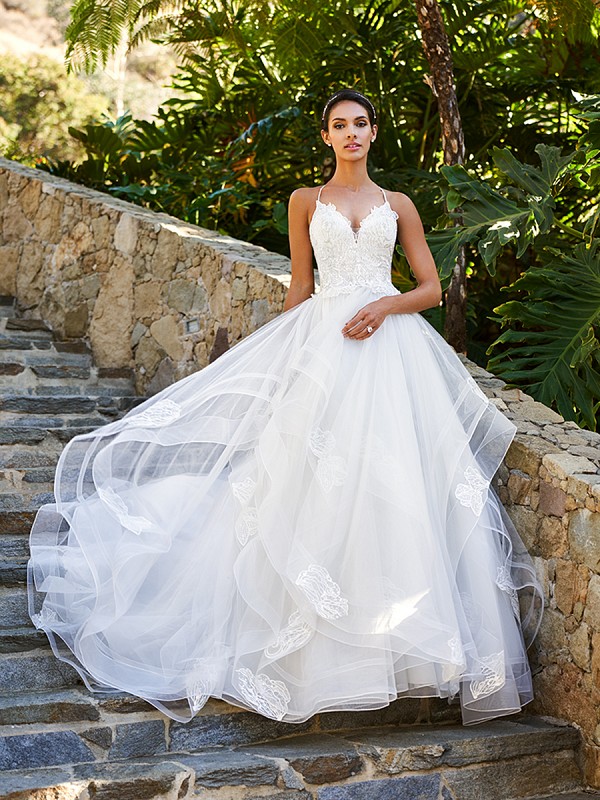 Style J6581B
A-Line Layered Tulle Wedding Dress with Lacy Details
Flowing layers of tulle in an A-line silhouette make Style J6581B from the Moonlight Collection the perfect dress for a fairytale wedding because it will make any bride feel like a princess. Various layers of tulle cascade down the front and back of the dress that feature floating lace and two different horsehair patterned hems providing every inch of the Layered Tulle Wedding Dress with a romantic feel.
The lined bodice is also worth a second look because it is covered in lace from front to back and top to bottom. It features a deep V-neck and an unexpected strappy crisscross pattern on the back that will make guests come in for a closer look.
No other dress will make you feel more like a princess on your wedding day than the Horsehair Wedding Gown from the Moonlight Collection. It features a large, voluminous skirt with cascading layers of tulle that will make you feel like you're floating in a dream all day and all night long.
A few features make this dress stand out from all the others. It features layered tulle with multiple horsehair hemlines in both single and double stripe patterns. Together with a strappy back in a crisscross pattern, this dress is undeniably whimsical and enchanting.
The fully lined and lace bodice complements the show-stopping skirt perfectly. It is fitted to hug your curves while the A-line skirt camouflages your hips and thighs, providing you with a tiny waist. It also features a revealing neckline that provides you with a little sex appeal.
Moonlight Bridal has created this Strappy Back Wedding Dress in both ivory and white. We also offer Style J6581A that has the same features, except the bodice is unlined.
Schedule an appointment with your local Moonlight Bridal retailer to see this Horsehair Wedding Gown or any of our other styles in person today!
Join Our Mailing List
Please enter a valid email!
Thank you for joining our Mailing List!
You'll now get news and updates in your inbox from Moonlight Bridal.