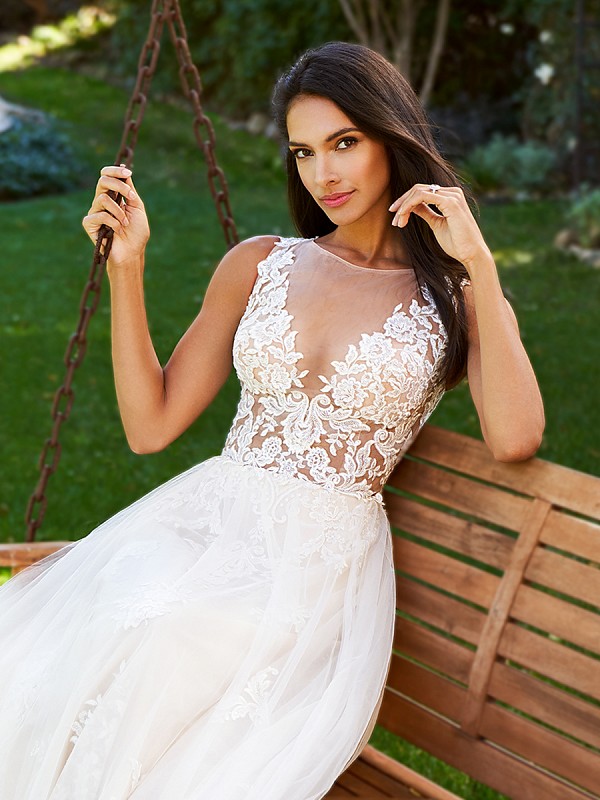 Style J6578A
Illusion Bodice Bridal Gown with Bateau Neckline
There's no question that Style J6578A will turn heads on your wedding day with its drop-dead gorgeous details. This Bateau Neckline Wedding Dress is covered in beautiful floral lace designs from neck to toe. The top of the dress features an unlined bodice, putting the lace on full display, while the bottom of the dress features more flowing lace and tulle.
The back of the Sexy A-Line Wedding Gown repeats the beautiful details from the front with a lacy back that shows plenty of skin, but still manages to provide you with full coverage. The magnificent train does a superb job of highlighting all the layers in the skirt, allowing your guests to see the tulle, lace, and lining under it all.
Ivory/Gold/Nude, Ivory/Ivory/Ivory, White/White/White
It can be difficult to find a dress that is alluring and sexy, but still provides you with enough support to feel comfortable, but that's exactly what this illusion bodice bridal gown does. It features a full-coverage bodice that comes all the way up to the neck and just graces the tops of your shoulders in the back, but because it is unlined, it still allows you to show plenty of skin while softening any imperfections at the same time.
The bottom of the dress is the perfect balance to the top. It features a continuation of the floral lace pattern, but the skirt is fully lined and layered with tulle. It is constructed with an A-line silhouette that is flattering on all body types, while the train puts all the layers of the dress on full display.
This gorgeous style from the Moonlight Collection comes in a wide variety of options to complement the natural beauty of any bride. This gown can be ordered in a variety of color combinations that include ivory, gold, nude, and white. You can also order a lined version of Style J6578A.
To see all of the options for this Bateau Neckline Wedding Dress in person, stop by your local Moonlight Bridal retailer. If you choose to rock this gorgeous style on your big day, make sure you upload your personal images and share them with us!
Join Our Mailing List
Please enter a valid email!
Thank you for joining our Mailing List!
You'll now get news and updates in your inbox from Moonlight Bridal.