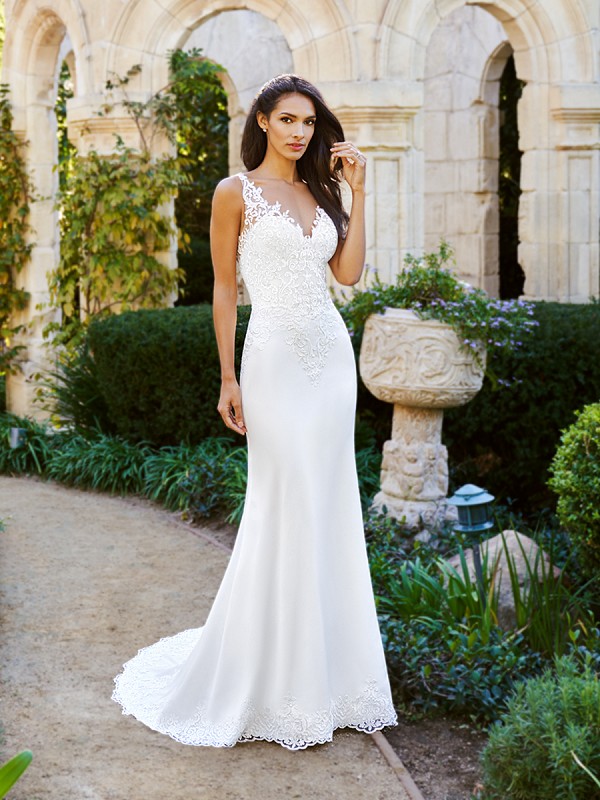 Style J6574B
Curve-Enhancing Fit-And-Flare Wedding Dress with Straps
The Crepe Wedding Dress with Straps from the Moonlight Collection is the perfect marriage between classic elegance and modern style. With its contemporary silhouette and classic details, it's the perfect choice for the bride who wants to honor the past while embracing the future.
Style J6574B features delicate lace on both the bodice and the hem of the dress. Together with very-bridal buttons trailing down the back and a satin skirt, it features gorgeous details you would expect to find on any classic bridal gown.
Complementing those classic details perfectly is an updated fit-and-flare silhouette that enhances and hugs your curves. With the perfect combination of new and old, this light, airy dress would be perfect for a traditional church or garden wedding.
Honor the women who have come before and take a daring step into the future with your new husband by wearing this Fit-and-Flare Wedding Dress with Straps on your wedding day. From the Moonlight Collection, Style J6574B will make you feel sexy on your wedding day, but even your mom will approve with its more traditional details.
The fit-and-flare style will make you feel like a modern bride, while the delicate lace details on the bodice and skirt will make you feel like a classic bride at the same time. A deep V-neck and back will allow you to show just enough skin to feel sexy, while the lined bodice provides you with plenty of coverage.
The satin skirt is made to skim the tips of your toes. Because it features a slim-line fit, there's no need for an uncomfortable slip or a crinoline skirt. With a small train that trails behind perfectly without the need for fluffing, this dress is exceptionally easy to wear and walk in.
If you're looking for an edgier version of this Lace Train Wedding Dress that doesn't have the lining in the bodice, consider Style J6574A. To learn more about this style or any of the other styles available on our website, contact us today, or try on one of our dresses in person by locating one of our retailers.
Join Our Mailing List
Please enter a valid email!
Thank you for joining our Mailing List!
You'll now get news and updates in your inbox from Moonlight Bridal.